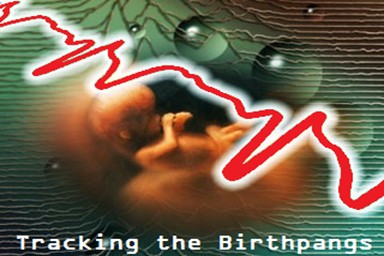 The first part of this page includes daily headlines that relate to the "birth pangs" of the end times. The last part of this page includes a list of links and news sources related to biblical prophecy. We can expect to see an increase in frequency and intensity of catastrophes and disasters, both natural and man-made, as we come closer to the Lord's return:
Luke 21:25-28 - "And there will be signs in the sun, in the moon, and in the stars; and on the earth distress of nations, with perplexity, the sea and the waves roaring; men's hearts failing them from fear and the expectation of those things which are coming on the earth, for the powers of the heavens will be shaken. Then they will see the Son of Man coming in a cloud with power and great glory. Now when these things begin to happen, look up and lift up your heads, because your redemption draws near."
Jesus told us to watch for specific signs leading up to his return. These signs are "birth pangs" (Matthew 24:6-7, Mark 13:7-8, and Luke 21:9-11). When these signs "begin" to happen, we know our redemption is near. While this redemption is ultimately speaking of Israel at the 2nd Coming of Jesus, the "birth pangs" have already begun. In other words, as the "birth pangs" increase in frequency and intensity, we know that the Church's redemption in the rapture is that much sooner. As an interesting side note, someone suggested to me that the "fear" spoken of in the passage above might be enhanced from the sensationalized news media.
Below, I post headlines daily related to the "birth pangs." This list will generally include headlines that relate to the Middle East, particularly news that concerns Israel and their neighbors, followed by global geopolitical turmoil, the volatile global economy, earth convulsions, technology and legislation leading to the "mark of the beast" system, and headlines that relate to the increasing depravity of man, like in the "days of Noah." Each headline below is a click-able link to the news article. A link to a two-year archive of "birth pang" headlines is found at the end of the daily list.
"Tracking Bible Prophecy" headlines can also be found on
Facebook
Tracking Bible Prophecy Headlines - 9/22/2017
UN dedicates annual Peace Day to safety, respect for refugees and migrants
Israel on UN list of states punishing human rights activism
Ex-CIA agent tweets article blaming Jews for US wars, then apologizes
Contradicting IDF, US says it didn't establish military base in Israel
Two U.S. Rabbis Say Bahrain's King Wants Arab Boycott of Israel to End
Relations between Israel and US Jewry must be mended
Syrian Media Report Israeli Strike on Weapons Depot Near Damascus Airport
With sharp words and stealth strikes, Israel sends a message to Hezbollah and U.S.
Israel Simulates War With Hezbollah, but Iran Will Orchestrate Next Conflict in Lebanon and Syria
Russia says will target US-backed fighters in Syria if provoked
American, Russian generals talk face-to-face on Syria
UN sets up probe of IS atrocities in Iraq
Erdogan: Turkey to deploy troops inside Syria's Idlib
Trump: Turkey's Erdogan Has Become a Friend of Mine, He Gets High Marks for His Leadership
Fighting Breaks Out at Turkish President's Speech in New York
Protesters violently ejected from Erdogan speech in NYC
Turkey, Iran and Iraq warn of 'counter-measures' against Kurd vote
Kurds to Vote for Statehood. Neighbors Say No Way
UN Security Council warns Iraqi Kurd vote 'potentially destabilizing'
Kexit? Iraqi Kurdistan referendum explained
Aoun: Sectarian division of states will increases wars
US-made bomb killed civilians in Yemen residential building, says Amnesty
India calls Pakistan 'Terroristan' in UN speech row
Trump's war strategy hailed by Afghan president: 'A difference of day and night'
More than 100 migrants missing after shipwreck off Libya
At UN, Bangladesh PM urges 'safe zones' for Myanmar's Rohingya
Myanmar protesters try to block aid shipment to Muslim Rohingya
British police make sixth arrest in Tube bomb investigation
Defiant Rouhani says Iran will press on with missile program
In defiance to US, Iran unveils new missile during parade
Report: Faulty devices help keep Iran in nuclear deal limits
World powers rally to defend value of Iran nuke accord
German minister: Ending Iran deal would be setback for curbing nuclear arms
Rouhani: Iran nuclear deal cannot be renegotiated
Iranian president says 2015 nuclear deal will 'collapse' if Trump pulls the U.S. out
Iran's Rouhani takes the stage at UN to lambast 'ignorant' Trump
Iran's top leader dismisses Trump's 'ugly, foolish' remarks
Iran Foreign Minister: If U.S. Wants New Nuclear Concessions, We Do, Too
China says N.Korea situation shows importance of Iran nuclear deal
EU officials reach draft deal on more North Korea sanctions
Trump says will be putting more sanctions on North Korea
Trump signs order aiming to cut off funding for North Korean missile program
Trump's financial strategy persuades China to put screws to North Korea
North Korea says sanctions threaten survival of its children
Trump imposes new sanctions on North Korea; Kim says he will 'tame the mentally deranged U.S. dotard with fire'
North Korea's Kim: 'Mentally Deranged' Trump Proves Nukes Were 'Correct Path'
Kim vows to make Trump 'pay dearly' for threatening N Korea
Kim Jong Un to consider 'highest level of hard-line measure' against US
N.Korea official says North may consider hydrogen bomb on Pacific Ocean
A North Korea nuclear test over the Pacific? Logical, terrifying
South Korean President Calls For Eased Tensions Over Nuclear Crisis
In South Korea, daily stresses outweigh North Korea missile worries
China banks reportedly to halt business with North Korea as South Korea sends $8 million
World shares fall on North Korea concerns, China rate cut
US urges all nations to stop the spread of nuclear weapons
Poland, NATO troops hold drills amid security concerns
Bomb kills 4 soldiers, wounds 6 in southern Thailand
Thousands rally in Philippines, warn of Duterte 'dictatorship'
Rodrigo Duterte tells Philippines police to kill his son if drug allegations are true
Catalan leader presses on with banned vote on split from Spain
Catalonia referendum: Spain PM calls for 'escalation' to stop
Spain Hires Cruise Liner to House Police in Rebel Catalonia
Britain's Theresa May is trying to keep E.U. 'divorce' from going totally off the rails
Sanders: Diplomacy, human rights must drive US world affairs
Zuckerberg: I Don't Want Facebook Used to Undermine Democracy
Mark Zuckerberg's Fake News Problem Isn't Going Away
Hackers use security utility to lock Macs in blackmail scheme
Elon Musk facing growing chorus of critics on 'evil' artificial intelligence
Artificial intelligence pioneer calls for the breakup of Big Tech
Could Russia (or Mexico) bribe the feds to regulate conservative news websites?
D.C. court rules tracking phones without a warrant is unconstitutional
U.S. Monitored Manafort After He Left Trump Campaign as part of a counterintelligence probe into Russian interference with presidential election
Senator asks FBI if it warned Trump campaign about Russian meddling
Rep. Maxine Waters: 'Impeachment Is About Whatever the Congress Says It Is'
U.S. Household Wealth Rises $1.7 Trillion to Another Record
Home Prices Soar in Disaster-Prone Areas
TV programs in California interrupted with end-of-world prediction
Hubble spots a strange new type of celestial object
Is the U.S. Overdue for a Catastrophic Earthquake? These Cities Are Most at Risk
5.5 magnitude earthquake hits near San Jose del Cabo, Mexico
5.2 magnitude earthquake hits near Taron, Papua New Guinea
Sabancaya volcano in Peru erupts to 25,000ft
Ruiz volcano in Colombia erupts to 21,000ft
Sangay volcano in Ecuador erupts to 20,000ft
Reventador volcano in Ecuador erupts to 13,000ft
Sinabung volcano in Indonesia erupts to 11,000ft
Puerto Rico's GOP congresswoman: 'This is not the same island' after Hurricane Maria
'Total destruction' in Puerto Rico after Hurricane Maria, and more rain is on the way
Maria to threaten lives, property in the Bahamas and Turks and Caicos
After Harvey and Irma, states grapple with millions of tons of garbage
After Hurricane Harvey, what will happen to the hundreds of thousands of flooded cars?
Climate scientist rebuts Hollywood hurricane hype: 'This is what weather looks like'
On last day of summer, California is hit by unusual snow and hail storms
Soon it will be just the U.S. and Syria rejecting the Paris accord
Malfunction halts Israel's natural gas production
Flint's lead-poisoned water had a 'horrifyingly large' effect on fetal deaths, study finds
Monsanto's Weed Killer, Dicamba, Divides Farmers
Mosquitoes carrying deadly diseases could invade 75% of America, warns US government
Australia's tough flu season may be bad news for U.S.
Australian schoolgirl raises alarm over flesh-eating disease
7-year-old fitted with 3-D printed hand to throw first pitch at World Series
Patriotic parent balks at teacher's gender-neutral Declaration of Independence
Trump judicial pick's remarks on transgender children draw Dems' ire
Alarmed by Islam, Europe's Gays Are Moving to the Right
Whisper It, but Israel's ultra-Orthodox Community Is Starting to Talk About Homosexuality
Pope admits Catholic Church waited too long to respond to clergy abuse crisis
Pope Francis Welcomes Leader of Muslim World League to Vatican
'Fifty Shades of Grey' and porn are inspiring sexual violence in Iran. Women are saying enough
Murderer sues Kansas prison for 'imposing Christian beliefs'
'Stupidly politically correct society is the death of comedy', warns veteran comedian Mel Brooks
* * * * * * * * *

Significant Earthquakes 5.0+ since the Richter scale was developed in 1935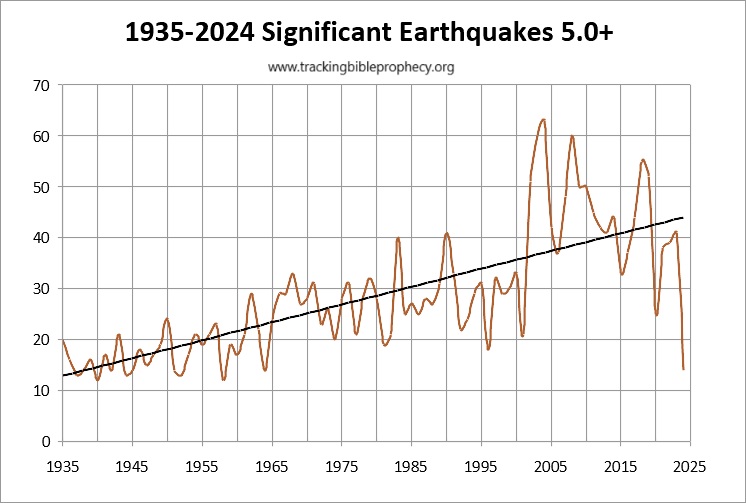 * * * * * * * * *

Links Earth's Birth Pang Resources Prophecy Related Commentaries Israel News Sources Other Prophecy Resources Pre-Tribulation Rapture On-line Communities Online Bible Study Resources
As we watch prophecy come alive before our very eyes, remember to pray for Israel:
Psalm 122:6 - Pray for the peace of Jerusalem: "May they prosper who love you."